DoSmarter L20 Lightweight Smart Watches,1.69″ Fitness Tracker Watch with Blood Pressure Heart Rate Blood Oxygen Sleep Monitor and 20 Workout Modes
Roll over image to zoom in
Click to open expanded view
$43.99 (-14%)
【Burden-free and perfect fits】With a light 35g weight, a thickness of 89mm (without the sensor base), and a workout-friendly soft strap, the fitness tracker allows you to enjoy the lightness of time.
【Sleek and Stylish While Functional】The fitness tracker has a super-sleek 8.8mm watch body with a 1.69″ HD screen assimilating into the bezel-less design. With powerful fitness, and health tracking features, it can help motivate you to meet your workout goals, get to bed earlier and incorporate mindfulness into your daily routine.
【All-round Health Management】This is an ultimate fitness tracker for a healthier, more active life that can provide blood-oxygen saturation level, monitoring of heart rate all day, continuous blood pressure, sleep tracking, and recording female menstrual period.
【20 Workout Modes】This fitness watch offers 20 workout modes to track your every way whenever you are exercising at the gym or home. It encourages regular exercise and keeps you stay motivated.
【Long-lasting With Rapid Recharging】Get an uninterrupted picture of your health with up to 5-7 days in smartwatch mode. About 20 minutes of charging adds up to 1 day of smartwatch mode battery life or 1 hour of music battery life.
【Wide Compatiblity】It is an ideal wearable smartwatch for any fitness-focused, health-needed, style-minded, iOS or Android user. It pairs seamlessly with most iOS 10.0 & Android 5.1 or higher version smartphones.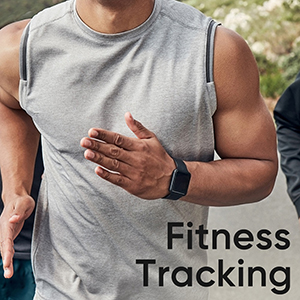 The smartwatch automatically tracks steps, intensity minutes, calories burned, and distance walked. Get all the stats you need directly on your wrist.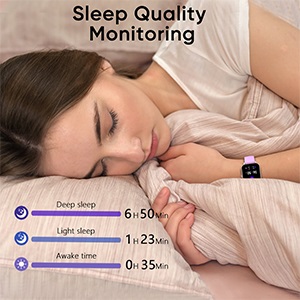 ADVANCED SLEEP MONITORING
Keep track of the different sleep stages as well as sleep time of light sleep, deep sleep, and awaken. Get a score for your sleep quality and insights on how you can do better.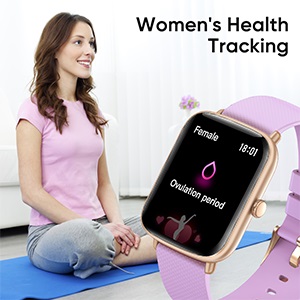 A woman's menstrual cycle can be an indication of overall health. The Women's Health in the app puts that information right at your fingertips when you pair your watch to a compatible smartphone.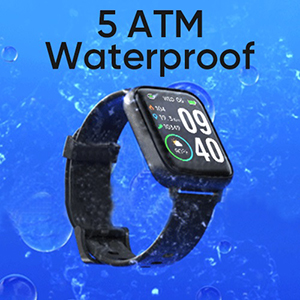 DURABILITY & WATER RESISTANT
With IP68, it's durable and resistant to dust, sweat and splash. Run, take a swim, give all the roughness your life has to offer, our smartwatch can take it all.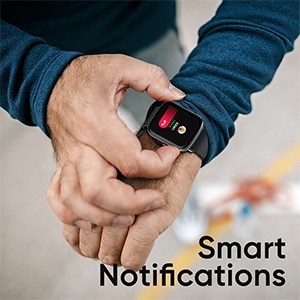 Receive emails, texts, and calls right on your watch when paired with your smart phone. You can decline the calls when you are busy with a meeting.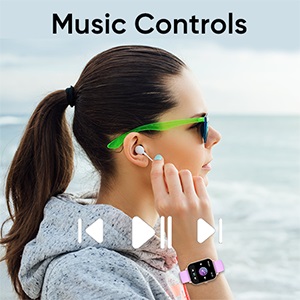 With a sleek design that's suited for every outfit and every part of your day, this watch features a bright color display and adjustable screen-on mode, so you can see everything with a glance.
Additional information
| | |
| --- | --- |
| Color | |
| Item model number | L20 |
| Package Dimensions | 5.9 x 3.66 x 0.83 inches |
| Item Weight | 2.11 ounces |
| Batteries | 1 Lithium Ion batteries required. (included) |
| Screen Size | 1.69 Inches |
| Shape | Square |
| Compatible Devices | Smartphone |
| Compatible Phone Models | Android phones, IOS phones |
| Case Material | PC |
| Water Resistance Level | Waterproof |
| Sport | Multi-Sports |
Please login to post questions.
Question:

Does this watch have a warranty?

DoSmarter_Customer
07-Sep-2022

Answer:

Hi. We provide 12 months for quality warranty and 30 days no-worry-return guarantee for non man-made defectives. Any other issue, just feel free to contact with us via aftersales@do-smarter.com.

Question:

How to connect to a smartphone?

DoSmarter_Customer
07-Sep-2022

Answer:

1)Search and download the APP Fitcloudpro from Apple store or Google play or scan the QR code in the user manual. 2)step 1: Enable Bluetooth on your mobile phone. Step 2: Launch Fitcloudpro on your mobile phone and register an account. Step 3: Follow the in-app instructions to create your profile. Step 4: Tap Mine> Device> Search on your mobile phone, then tap the model name to connect. Notes: If you are using an Android phone, please permit the watch to access your location, otherwise the watch may not be searched. Please give full permission to the watch to sync the information, otherwise the app may fail to display all the available options. The watch can only pair with one mobile phone at a time.

Question:

How to charge the smartwatch?

DoSmarter_Customer
07-Sep-2022

Answer:

Hi. Attach the metal contacts at the back of the watch on the charging pins, plug the charging cable into the USB port on the computer or power bank for charging. Fully charge about two hours.

Question:

How do you change the time ?

DoSmarter_Customer
07-Sep-2022

Answer:

Hi. The date and time of the tracker will automatically synchronize with your phone after your watch is successfully paired with your phone in the App.

Question:

How to test heart rate and blood oxygen?

DoSmarter_Customer
07-Sep-2022

Answer:

Hi. You can swipe the watch screen and tap the corresponding health icon to measure your HR/BP/SPO2. Or you can turn on the Automatic Health Monitor and Elevated Heart Rate Measurement functions in the APP,then the smart watch can monitor your 24/7 healthy data automatically.

Question:

Is this comparable with Android?

DoSmarter_Customer
07-Sep-2022

Answer:

Hi. The fitness tracker L20 is compatible with app which requires a smart phone with android 4.4 or iOS 10.0 above.

Question:

Why the watch can not receive messages?

DoSmarter_Customer
07-Sep-2022

Answer:

1.Make sure the watch is connected with the App FitCloudPro. 2.Please check if the SMS is turned on in the App, the watch only works and reminds after the SMS notification has turned on in the App. 3.Then go to the settings of Mobile phone>Notifications>Find the Messages>Allow Notifications.

Question:

What sports are tracked by the dosmarter fitness tracker?

DoSmarter_Customer
07-Sep-2022

Answer:

Hi. The Fitness tracker L20 tracks your exercise data in up to 20 sports mode. Walking, Running, Training, Climbing, Cycling, Basketball, Swimming, Badninton, Elliptical, Yoga, Table tennies, Skipping, Machine, Lazy car, Exercise bike, Tennis, Baseball, Rugby, Cricket, Fitness.

Question:

Is there a way to make the screen not time out so fast?

DoSmarter_Customer
07-Sep-2022

Answer:

Hi. We can set up the display time. Tab the watch Settings - Screen display - Screen time - select the screen display time.

Question:

How do you change the watch face?

DoSmarter_Customer
07-Sep-2022

Answer:

Hi. You can select the watch face you prefer in the watch face gallery of the FitCloudPro app. Or you can upload photos from your phone gallery in the FitCloudPro app to make watch faces. Steps: Go to "FitCloudPro" App --> Device --> Watch face